I have gone crazy making ponchos!
I have made one for Aimee, myself and my friend Sheryn.
I now have two designs. The design for Aimees poncho is being tested by a friend. I think I still need to tweak the writing of it but I am very happy with the design. Sheryn is making Aimee a hat to go with it. I will add the flowers. Stay tuned for photos! It is made out of 8ply, 100% wool from Nundle Woollen Mill. The bodice is a daisy stitch.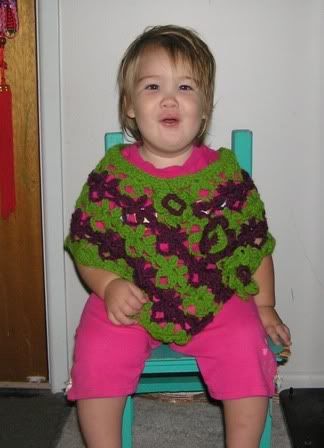 Here is the poncho I made for myself. Would you believe in 25 years of crochet I only have one wearable and that is a hat? In fact I barely keep any of my creations. I own about two rugs and that is it. SHAMEFUL. Anyway....... I hate winter! I hate being rugged up and I hate layers, with a passion. I chucked the biggest tantrum the other day just because it was cold. :( I designed this poncho so that it is not too heavy or long over my elbows. I used Te Awa Moon Dance, which is felted 8ply merino from New Zealand. This wool is lush and I had 175g left over from another project.... perfect.